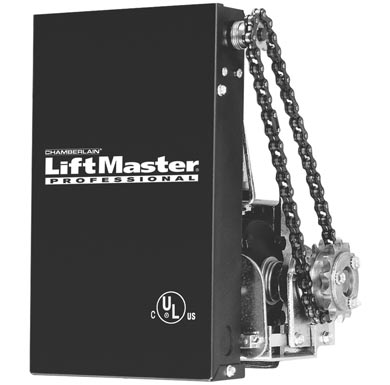 Light-Duty Gear-Reduced Jackshaft Operator for Rolling Grilles and Shutters
Model LGJ is a light-duty gear-reduced jackshaft operator for rolling grilles and shutters. It features an internal door lock sensing circuit, a compact design and a floor level disconnect.
STANDARD FEATURES
Motor: Powerful 1/4 HP, 115V single phase motor with instant reverse and internal automatic reset thermal overload. Removable without affecting limit switch settings.
Wiring Type: The Model LGJ is easily wired for C2 or B2 wiring. The operator is pre-wired to accept a sensing device, photoelectric control, radio controls and most types of access control equipment.
Operator/Motor Control: Solid State Circuit (G2) with Door Lock Sensing Circuit (NEMA 1 enclosure).
Control Circuit: 24V NEC Class 2.
Floor Level Disconnect: Floor level disconnect provides emergency manual operation.
Drive Reduction: Heavy-duty wormgear-in-oil-bath speed reducer.
Push Button Station: 3-button station for OPEN/CLOSE/STOP functions is standard for all operators. Controls with one, two and three buttons are available.
Construction: NEMA 1 Type electrical box with durable baked-on powder coat finish. Easily converted for right or left mounting.
Door Lock Sensing Circuit: The Model LGJ includes a speed sensor in the electrical enclosure and a sensing circuit which sends a signal to stop the motor if the door jams, such as would be caused by failure to release the lockbar of a rolling grille before starting the operator. In addition to stopping the motor, if the door or grille is in fully closed position, it will drive the motor in the opposite direction for approximately 1 inch of door travel. This releases the pressure on the lockbar thus allowing the lock to be easily opened.
Warranty: 2-year warranty.
CONTROL ACCESSORIES AND OPTIONS
Sensing Edge: (recommended) Designed to sense an obstruction and signal door operator to stop or reverse as desired. Either an electric or pneumatic sensing device can be added to bottom edge of door.
Radio Control: Universal transmitters and receivers are available to signal the operator to open and/or close door.
Emergency Egress Device: Attractive faceplate mounts flush on wall and contains handle to disconnect operator from a grille, thereby allowing the grille to be opened manually or by spring tension.
Rolling Door Interlock Switch: Interlock switch disables the operator control circuit when a manual door lock is engaged preventing damage to the door and operator.
CPS® Commercial Protector System®: (recommended) A "non-contact" photo safety sensor designed to sense an obstruction and signal the door operator to reverse to open.
Safety of a non-contact infrared reversing sensor
Fast and easy-to-install
Patented electrical interface monitors system status at all times
LED indicators for quick alignment
One size fits all (for doors up to 30 ft. wide)